If you want to have a drink, you will find plenty of places in New York City ! Here are some places that I like because they have a little something that you will not find elsewhere...
You keep running from a visit to a tour ? So here are the good and cheap places where you will be able to eat on the go or enjoy something sweet. In New York City, you will also find french bakeries !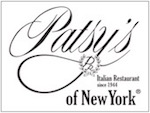 75th Anniversary for the Restaurant of the celebrities
Follow these two Spanish chefs to Galicia
An american style bistro !