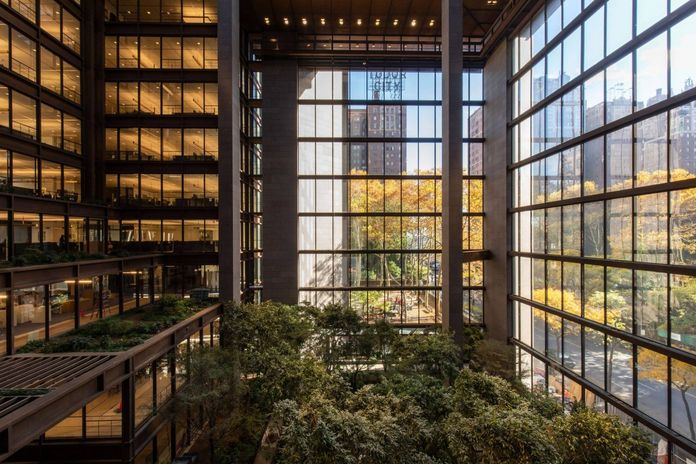 Located on 42nd Street, a few steps from the Chrysler Building and the UN, the headquarters of the Ford car manufacturer's foundation seems rather stark when viewed from the outside. But like a Kinder egg, the surprise is waiting for you inside!
This 12-storey building was inaugurated in 1968 and was reopened to the public in late 2018 after two years of refurbishment. Cost of the work: more than $190 million. The objective was in particular to bring the building up to standard but also to rebuild the interior garden, one of the first of its type in New York.
40 trees and more than 20,000 plants
Climb the stairs overlooking 42nd Street and go under the large atrium. You are now in the heart of the garden with 40 trees, more than 1000 shrubs and more than 20,000 plants of all varieties. You will be able to spot vines, magnolias, bougainvilleas, azaleas, camellias and ferns. The garden obviously requires a special system for watering and lighting.
After visiting the garden, here's a little extra for a nice picture of the building with the Chrysler Building in the background: walk to the opposite sidewalk on 42nd Street and use the ramp that goes up on the bridge over 42nd Street. From Tudor City Place, you will have a unique perspective on 42nd Street!
For those who are familiar with the city of London, you can find a similarity with the "Sky Garden" located in the centre of the British capital.
Access Map to the Ford Foundation Building