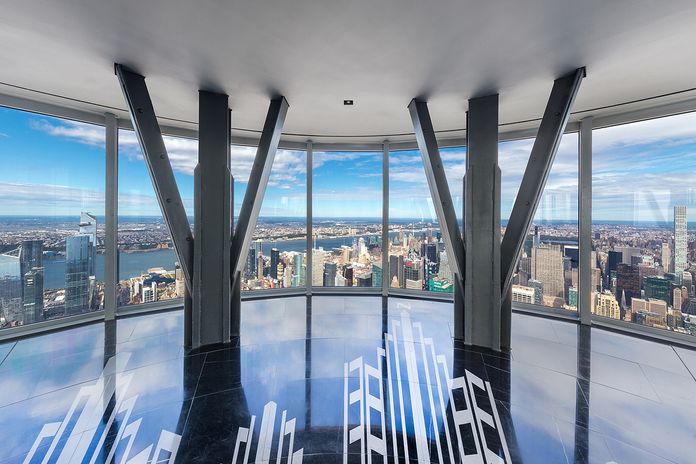 The Empire State Building announced the reopening of its 102nd floor Observatory. Opening to the public on October 12, 2019, the new 102nd floor Observatory features floor-to-ceiling glass windows where you can step right to the edge of the famous Building.
You will experience your first "Wow" moment when you will enter an all glass elevator on the 86th floor. As you travel 16 stories through a newly-renovated glass shaft to 102, you will be provided a never-before-seen look at the inside of the tower's mast and a glimpse of its world-famous tower lights. Once the elevator nears its destination, don't forget to get a sneak peek at the breathtaking views before stepping out onto the Observatory.
24 crystal-clear, eight-foot-tall windows
The 102nd floor is an enclosed, climate-controlled, all-weather Observation Deck allowing 360-degree views of the city and beyond from the heart of New York City. The observatory is made up of 24 crystal-clear, eight-foot-tall windows.
"The 102nd floor Observatory is the crown jewel of the Empire State Building. We've removed all the obstructions and obstacles, giving Guests access to a view that is centrally-located and unrivaled in New York City," said Anthony E. Malkin, Chairman and CEO of Empire State Realty Trust.
Construction of the 102nd floor began in January 2019 within a state-of-the-art suspended "cocoon", a circular scaffolding structure. The cocoon allowed work to take place with no impact to Guests visiting the world-famous 86th floor Observatory.
How to visit the 102nd Floor Observatory?
Tickets to the 86th floor Observatory can be purchased here : Empire State Building Observatory and Optional Skip the Line Tickets. Tickets to the 102nd floor Observatory can be purchased for an additional $20 at kiosks located on the second and 86th floor.