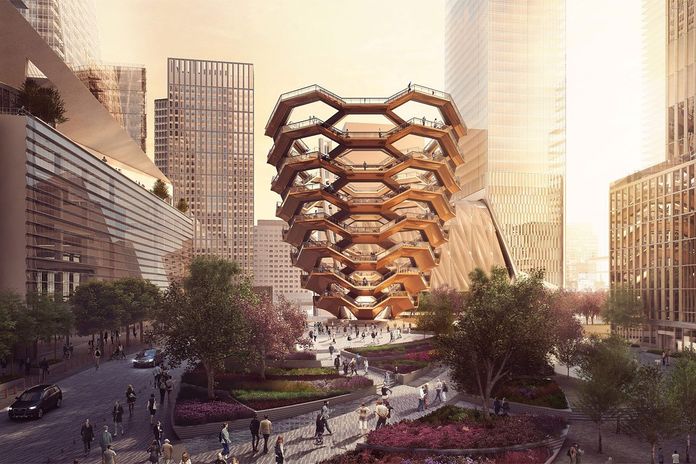 This is one of the great innovations to be seen in New York in 2019! On March 18, 2019, The Vessel will finally open its doors to the public. What is it about? The Vessel is a strange construction of concrete and steel that is both a work of art and an observatory that is accessible to the public. A curiosity imagined by the British designer Thomas Heatherwick.
The structure is in the form of a tangle of stairs that rise up to 45 metres high. The Vessel is located in the heart of the new Hudson Yards district, between Hell's Kitchen and Chelsea. You can't miss it by taking the planted High Line walk.
Access to the Vessel is totally free but you still need a ticket !
The Vessel invites you to climb all the stairs and enjoy the view of the Hudson Yards towers, the High Line and the Hudson River from a distance. A great way to discover a new and original point of view on New York!
On a practical level, you should know that Hudson Yards managers have set up a ticketing system to prevent The Vessel from being stormed by the crowd. You must therefore have a reservation to access the structure. But, good news, the entrance is free! All you need to do is to show a ticket with the current date and time. To do this, go to the Hudson Yards website to select the number of tickets you want and choose a day and time slot. Reservations are open now for visits from March 18, 2019.