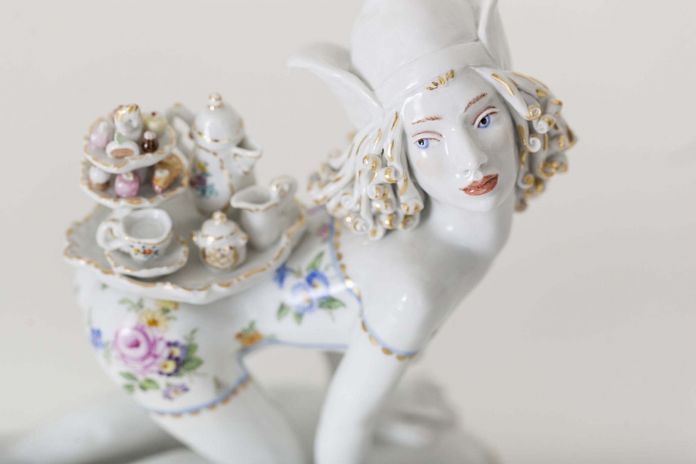 This fall, the Museum of Arts and Design (MAD) presents MAD Transformations, a series of six exhibitions showcasing artists who have transformed and continue to reshape the public perception of traditional craft mediums. Building upon the exhibition Voulkos: The Breakthrough Years, which celebrates the work of an artist known for drastically changing the way clay is categorized as an art material and discipline, the series considers fiber, clay, and jewelry and metals, disciplines that have composed the bedrock of MAD's founding mission and collection, and that continue to morph in the hands of contemporary artists today.
"MAD's mission is rooted in craftsmanship, the ways that skilled makers transform the world around us," says Shannon R. Stratton, MAD's William and Mildred Lasdon Chief Curator. "This fall's six exhibitions highlight artists whose engagement with specific materials, their process, and the transformation of these materials enabled them to break through boundaries of established disciplines or perceptions of art versus craft."
Crochet Coral Reef: TOXIC SEAS
Crochet Coral Reef: TOXIC SEAS celebrates the 10th anniversary of the Crochet Coral Reef, an ongoing project by sisters Margaret and Christine Wertheim and their Los Angeles-based organization, the Institute For Figuring. Mixing crocheted yarn with plastic trash, the work fuses mathematics, marine biology, feminist art practices and craft to produce large-scale coralline landscapes, both beautiful and blighted. At once figurative, collaborative, worldly, and dispersed, the Crochet Coral Reef offers a tender response to the dual calamities facing marine life: climate change and plastic trash.
September 15, 2016 to January 22, 2017.
Coille Hooven: Tell It By Heart
Coille Hooven: Tell It By Heart assembles works that span more than 40 years of Coille Hooven's career. Working in porcelain, Hooven creates psychologically charged sculpture that explores domestic-centered narratives from the kitchen to the bedroom. One of the first ceramists to bring feminist content to clay, she uses porcelain to honor the history of women's work, confront gendered inequality, and depict the pleasures, fears, and failures of partnering and parenting.
September 22, 2016 to February 5, 2017.
Chris Antemann: Forbidden Fruit
Chris Antemann: Forbidden Fruit celebrates the collaboration between Oregon-based artist Chris Antemann and the renowned Meissen Porcelain Manufactory. In 2011 Antemann was invited to participate in Meissen's art studio program, in which she worked closely with Meissen's master artisans to create unique pieces and a series of limited editions that strike a perfect balance between her distinctive style and Meissen's identity. These pieces are arranged in Forbidden Fruit as a grand installation that reinvents and invigorates the great figurative tradition.
September 22, 2016 to February 5, 2017
Françoise Grossen Selects
Françoise Grossen Selects is part of MAD's POV series, which invites guests' perspectives on the Museum's permanent collection through the lens of their own practices. In the 1960s, Françoise Grossen rejected the rectilinear loom that constrained contemporary weaving in favor of an intuitive approach to fiber that resulted in the creation of large-scale, suspended rope forms constructed of knots, loops, braids, and twists. At the time, fiber was still associated with utility rather than fine art, and Grossen's freehand, three-dimensional handling of the medium was considered a revolutionary gesture that upset the traditional hierarchy subordinating craft to art. A number of other artists in the 1960s and '70s, including Eva Hesse, Sheila Hicks, and Magdalena Abakanowicz, also began working with fiber in innovative ways, and they shared Grossen's interest in the process of making and the desire for unmediated contact with everyday materials such as rope, string, cord, and twine.
October 18, 2016 to March 15, 2017
Voulkos: The Breakthrough Years
Spanning the years 1953-1968, Voulkos: The Breakthrough Years is the first exhibition to focus on the early career of Peter Voulkos, whose radical methods and ideas during this period opened up the possibilities for clay in ways that are still being felt today.
While trained as a traditional potter, Voulkos defied mid-century craft dictums of proper technique and form to completely reinvent his medium. He combined wheel throwing with slab building, traditional glazes with epoxy paint, figuration with abstraction, and made huge ceramic structures with complex internal engineering. The exhibition will feature approximately 31 examples from this crucial body of early work, most of which have not been exhibited on the East Coast for four decades. Also included will be three of the artist's rarely seen works in oil on canvas, which help to demonstrate how Voulkos developed his ideas concurrently in painting, sculpture, and pottery.
October 18, 2016 to March 15, 2017
Lauren Kalman: But if the Crime Is Beautiful…
Taking up the subject of gold (specifically jewelry and adornment) as representative of power, wealth, love, and sex, Lauren Kalman: But if the Crime Is Beautiful…, created by visual artist and metalsmith Lauren Kalman, is MAD's second POV exhibition in the Tiffany & Co. Foundation Jewelry Gallery.
In reference to Austrian architect Adolf Loos' 1910 lecture "Ornament and Crime," in which he declared decoration regressive and fit only for degenerates and criminals (this included women and minorities), Kalman commits a "crime" by covering the inside and outside of MAD's jewelry cases with 2,000 gold-plated brass leaves. Loos' theories laid the groundwork for modernism, known for its spareness, rectilinearity, and rationality. In this installation, the upright white cases in the jewelry gallery stand in for Loos' modernism.
October 18, 2016 to March 15, 2017