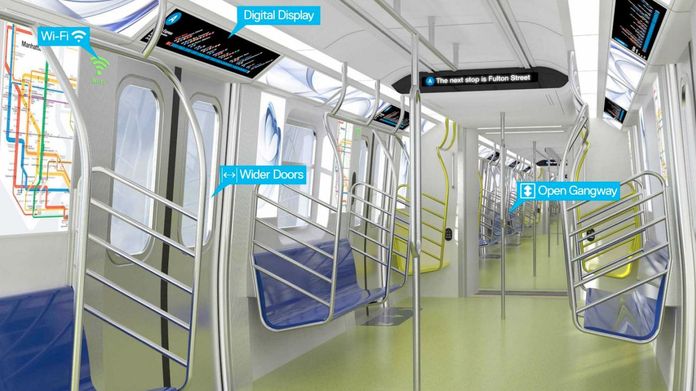 Governor Andrew M. Cuomo and MTA officials unveiled the design features of 1,025 new and reimagined subway cars. Out of 1,025 new cars, up to 750 will feature an Open Car End designed. This Open Car End design replaces the door between cars with an accordion-like connector in order to create longer, open spaces, allowing for greater passenger flow movement and increasing capacity in the process. These cars have become an international standard: in London 31 percent of cars will be Open Car End by the end of the year and in Paris the figure climbs to 37 percent.
The door width of the new cars will be expanded from the current MTA standard of 50 inches to 58 inches. Wider subway doors can reduce delays by allowing customers to enter and exit more quickly, and have become an international standard. According to a computer simulation of passenger flow conducted on behalf of the MTA, in crowded scenarios wider doors can reduce a train's "dwell time" in the station by 32 percent.
Renovation of 31 subway stations
The interior of new cars will also feature a host of new amenities, including WiFi, USB chargers, full color digital customer information displays, digital advertisements, illuminated door opening alerts and security cameras to promote passenger safety.
The Governor also previewed key elements that will be featured in the renovation of 31 subway stations throughout the New York Metropolitan Area. The 31 stations included in the program build upon a larger campaign, designed to improve the customer experience, and includes component and renewal work at more than 170 other stations. Design elements include enhanced lighting throughout the stations and inclusion of amenities, such as count down clocks, improved cellular connectivity, Wi-Fi and new art.