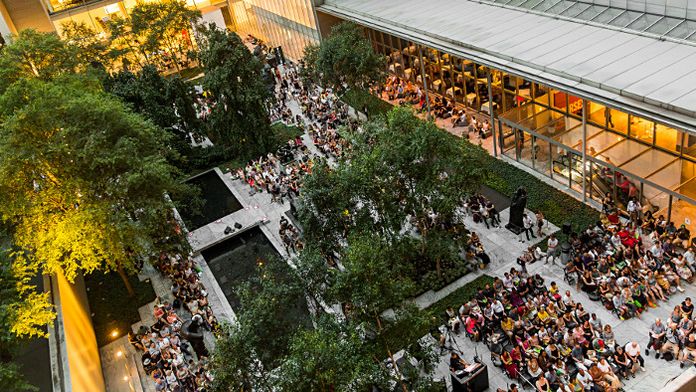 The Museum of Modern Art announces its lineups of live music events in the Abby Aldrich Rockefeller Sculpture Garden for summer 2016. The annual "Summergarden: New Music for New York" free concert series returns for four Sunday evenings beginning July 10.
Since 1971, Summergarden is part of the Museum's long history of presenting contemporary classical music and jazz. Members of the New Juilliard Ensemble, under the artistic direction of Joel Sachs, perform on July 10 and 24, offering two distinctive programs of contemporary compositions that are receiving their New York premieres. The New Juilliard Ensemble specializes in presenting new music in the most diverse styles from the United States and all over the world; it has commissioned nearly 100 pieces and has performed in the U.S., Britain, France, Israel, Japan, Poland, and Russia
Jazz at Lincoln Center has also selected two jazz groups whose concerts on July 17 (Elliot Mason & Creation) and July 31 (Josh Evans Quintet) emphasize original works. Each Jazz at Lincoln Center evening features one world premiere.
"Summer Thursdays"
On Thursday evenings in July and August, the MoMA presents "Summer Thursdays", a series of musical performances free with admission, organized in collaboration with PopRally, a cross-departmental committee that programs events at the Museum and MoMA PS1.
Beginning July 7, the Museum will remain open until 8:30 p.m. on Thursdays and present concerts in the Sculpture Garden, free with admission. The 2016 Summer Thursdays series kicks off with Brooklyn Raga Massive's performance of longtime Conner collaborator Terry Riley's In C. The following weeks feature acts that embody the unconventional spirit of the artist and his work, in musical genres ranging from indie rock to neo-psych to pop punk to experimental electronic music. Performers as diverse as Torres and Daedelus are presented.