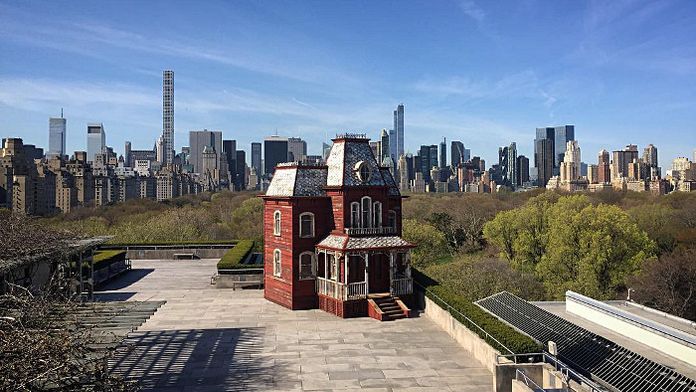 Among the futuristic towers of New York, this old house attracts our attention. Until October 31st, the Metropolitan Museum hosts on its rooftop terrace a replica of the mansion used in the scary movie Psycho, one of the masterpieces of the famous British director Alfred Hitchcock, starring Anthony Perkins in the role of Norman chilling Bates.
This reproduction of the façade, at the scale 2/3, was created by the British artist Cornelia Parker. This project is parf of the "Roof Garden Commission", an initiative launched by the Met in 2013 that allows contemporary artists to exhibit their works on the roof.
An architectural curiosity
In an interview you can watch below, Cornelia Parker sayd she wanted to build an architectural curiosity facing the Midtown skyline. After thinking a barn, unfortunately too big for the roof, she had the idea to reproduce the "house by the railway" created by the American painter Edward Hopper, the building that served as the model decor for Psycho.
The real mansion used in Psycho is now in the heart of Universal Studios in Los Angeles and you can see it during the Studio Tour.