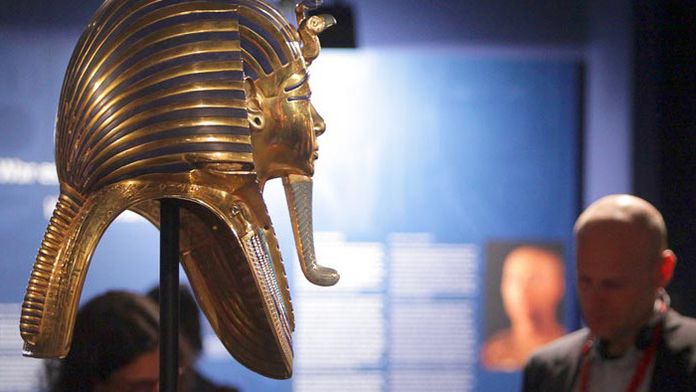 Tutankhamun awaits you in New York City! Until May 1, the exhibition "The Discovery of King Tut" invites you to experiment one of the greatest archaeological adventures: the discovery of the tomb of King Tutankhamun by the british archaeologist Howard Carter, in 1907 in the Valley of the Kings, Egypt.
This exhibition provides an unparalleled opportunity to explore the legendary tomb and its treasures just as Carter found them. The Discovery of King Tut takes you back more than 3,000 years to trace the story of the boy king who reigned for a decade and died suddenly at age 19. You can view more than 1000 precisely crafted replicas and reconstructions and discover the story behind one of the most iconic moments in history.
The tomb's magnificent burial goods have been reproduced exactly down to the finest detail by expert Egyptian craftsmen and Egyptologists.The exhibition experience culminates in exact reconstructions of three chambers from Tutankhamun's tomb, revealing themselves just as the discoverers saw them.
Tutankhamun and New York City

A radioplay-like audio tour based on Howard Carter's diaries, video documentaries, extensive texts and object descriptions and unhindered access to the objects together provide an exciting, as well as informative, experience for all the senses.
A series of lectures by renowned Egyptologists, and a gallery featuring the special relationship between New York and King Tut also accompany the exhibition. The 1976 exhibition at the Metropolitan Museum of Art, indeed, unleashed an "Egyptomania" like never before, so much so that it was said that Tutankhamun began his real life after death in New York! The Met's exhibition led to a "Tut-mania" that affected everyone from Elizabeth Taylor to Andy Warhol to Steve Martin.
You can now book your tickets here for The Discovery of King Tut.
About the exhibition
Where: Premier Exhibitions 5th Avenue
Adress : 417 5th Avenue, between 37th and 38th Streets. A few steps from Grand Central Terminal.
Hours : Monday to Thursday from 11:00 AM to 7:00 PM, Friday from 11:00 AM to 09:00 PM, Saturday from 10:00 AM to 09:00 PM and Sunday from 10:00 AM to 07:00 PM.
Entrance : $32 for adults, $26 for seniors (65 to 99) and $22 for children (5 to 11). Book your tickets here.