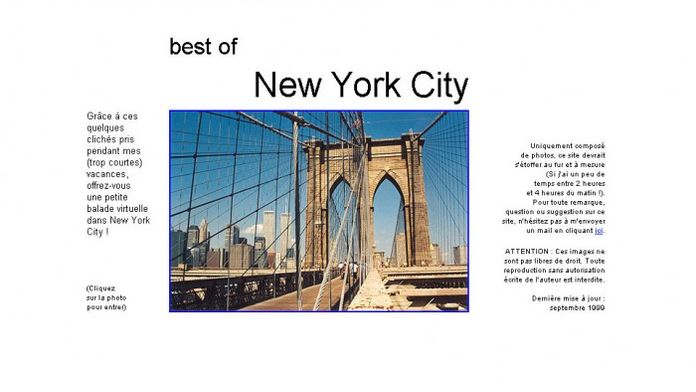 Today, I have the great pleasure to celebrate the 16th anniversary of this website about New York City! ©New York was launched the 1st of September, 1999. The website was then called "Best of New York City." The idea was to display my pictures from New York City on the Internet. All these photos were taken with an old camera, with film : at that time, digital cameras were still prototypes…
In 1999, the Web had in fact nothing to do with what it is today. Google France was created in 2000, Facebook in 2004, YouTube in 2005, Twitter in 2006 and Bing in 2009… The biggeste Search engines in 1999 were called AltaVista or Northern Light. And if you want to browse the Web, you had to use a 16 or 32 bit modem that made all kinds of strange noises before it finally opened a page in small format on a browser like Mosaic. And it was just impossible to browse the Web with your phone: the first iPhone was released in June 2007!
A team of New York City enthusiasts
Since then, ©New York has grown a lot! An english version was created and, today, a whole team of New York fans joined me to answer your questions and help you organize your travel to New York City. I take this opportunity to thank them publicly: thank you to all of you who keep this website unique. And do not hesitate to contact us if you're a fan of New York and if you want to help us! I also thank all the visitors who take the time to send us photos or share their experiences on the forum.
Don't hesitate also to join us on the social networks: Facebook, Twitter, Google+, Instagram and YouTube. Happy birthday !