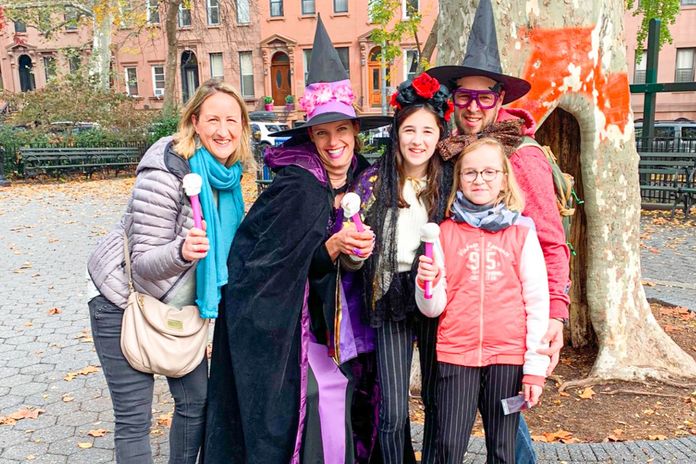 A spooky treasure hunt for Halloween this fall
This is what Laurene Hamilton, a licensed tour guide is offering during a 1.5-hour tour through Carroll Gardens in Brooklyn! Meet Witch Abigail coming to Earth right from Hell searching desperately for a book of magic

spells.

This book is the key to her salvation. But …she can only find it with the help of little humans. Now the question really is: Will you be brave and witty enough to solve her mystery and help Abigail the Witch? 
A unique Halloween trail in the heart of Carroll Gardens
The neighborhood of Carroll Gardens is always decked out for Halloween. Dressed in your best Halloween costume, you will follow Abigail the Witch on her search for little clues to find the magical book. One says this book has been kept inside a secret location in a haunted church for over 400 years. Be prepared to be surprised and find out about the murders and mysteries surrounding this place.

On your way to this spooky hunt, you will

come face to face with

carved pumpkins, the Adams Family, some gnomes, and lost souls on electric chairs.

Keep your eyes and ears wide open

because there will be questions and riddles to solve along the way. If you avoid the traps, you may even get some

candy but only if you behave

. 

Will you find the magical house where the book of magic spells stayed hidden for 400 years? Hocus Pocus!
A Halloween tour in New York particularly suited to families
Laurene Hamilton designed this fun and interactive tour with families in mind. This is a private tour. The walk is also very playful. Each participant will be given some Halloween goodies along the way. Because of the COVID restrictions, masks are required for the participants.

As such we recommend you come dressed in your best costume or only with a fun Halloween mask.

With

Abigail will be masked too (which is nice actually, considering her toothless smile)
How do I book this unique Halloween tour with Abigail the Witch in New York?
As a group, the tour costs $55 per adult and $39 per child, with a minimum of 4 participants. The price includes a 1:30 guided tour with Abigail the Witch and some Halloween goodies/candy

. After your visit, you will receive by email the photos we took of you while you were spooking out the streets of Brooklyn!

Please note that the Halloween tour is only available from October 15 to November 1. Book early to block your date! Just email us at

laurene@cnewyork.com

with your dates.
Pictures of our tour in New York