Cruises
A cruise in the New York City bay is one of the highlights of a trip in the Big Apple. You can choose between several companies and different kind of ships, depending on your preferences and your budget. Welcome on board!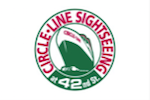 Since 1945, Circle Line Sightseeing Cruises is a true New York institution and a "must-see" attraction while in town. Circle Line Sightseeing Cruises offers a wide variety of sailings providing generations of visitors with magnificent views of the Manhattan skyline and interesting tidbits about the New York city and its surroundings.
Pier 83, West 42nd Street/12th Avenue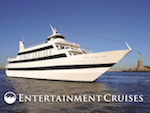 Enjoy New York from a different perspective with Entertainment Cruises and its dining cruises. The company owns "Spirit Cruises", a magnificient yacht. Welcome aboard !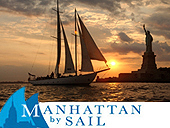 Create unforgettable memories of the spectacular beauty of the Statue of Liberty and the Manhattan skyline away from the crowds of other tourists from the deck of a magnificent 82-foot sailboat. Manhattan by sail offers daily public sails as well as private charters in New York's historic harbor. You can simply kick back and be pampered by the staff or join in as "crew" and take a turn at the helm. Manhattan by Sail proposes severals kinds of cruises : daytime sails, sunset sails, wine tasting sails or night sails.