Computers and electronics
PCs, laptops , tablets, smartphones, softwares... All the latest technologies are waiting for you in New York City ! And don't miss the famous Apple flagship store on the Fifth Avenue.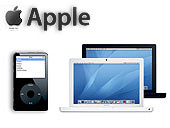 Buy the world famous MacBook, iMac, iPods, iPhone and accessories. Apple has several stores in New York City but the New York City flagship store is on the Fifth Avenue, a few steps from Central Park, on Grand Army Plaza.
Best Buy is one of the biggest electronic retailer in the United States. You will find Computers & Tablets, Cameras & Camcorders, Cell Phones, GPS, Smart home products, Drones, Toys & Collectibles... All the biggest brands are here: Apple, Sony, Samsung, Epson, Lenovo, Microsoft...
Founded in 2001 in Williamsburg, Brooklyn, Mikey's Hook-Up has more than 5000 different items in stock: laptops computers, hard drives, mouses, printer ink, photo paper, computer cables, adapters… Also on display is the latest family of Apple computers and accessories. Mikey's Hook-Up has been an Apple Authorized Sales and Warranty Service Center since 2007.