Vintage clothing
The vintage fashion has also gripped New York City. Several shops offer whole shelves of second-hand clothes. Check these stores out and perhaps you will find a rare gem !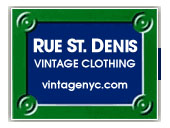 Named after one of the oldest and lustful streets in Paris, Rue St. Denis is located downtown in the trendy East Village. The store is well furnished and organized with superb collections of authentic vintage clothing for men and women mostly never worn and imported from Europe that range from the 1940s to the 1980s.
170 Avenue B, between 10th et 11th Streets
1 Av
Show on map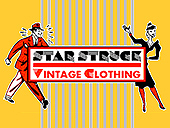 Star Struck Vintage Clothing is a family-run business, founded in 1980 in New York City's West Village. They offer a cornucopia of vintage treasures for men, women and children. Whether you are a fashion maven looking for a double taking new outfit or a penny-wise student trying to put together a great look on a budget, you will find everything you need at Star Struck to guide and inspire you. It's like having one hundred seasons to pick from under the same roof !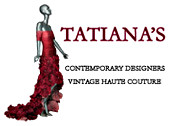 Tatiana Designer Resale Boutique features vintage jewelry, shoes, dresses, accessories, suits, handbags, furs and separates from elite designers such as Chanel, Versace, Emanuel Ungaro, Dolce & Gabbana, Moschino, Hermes, Cartier, Fendi and Gucci. Most of these items come directly from fashion shows and showroom floors.
235 East 60th Street, between 2nd and 3rd Avenues
Lexington Av / 59 St
Show on map