This newly constructed hotel opened in March 2013 in the Hell's Kitchen neighborhood. The Comfort Inn Midtown West is walking distance to Times Square as well as the well-known Theater District. As part of the hotel chain Comfort Inn, you will find all the standards of this famous American hotel chain.
Book directly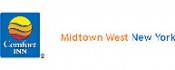 Tel : (212) 586 0400
www.comfortinnmidtownny.com
Rooms
89 guestrooms, including 26 rooms with 2 beds.
Flat-screen plasma TVs with premium cable channels and in-room movies.
Complimentary Wi-Fi & Wired Internet.
Clock radio.
Free local phone calls.
Complimentary newspapers (Monday to Friday).
Coffee/tea maker.
Complimentary toiletries.
Hairdryer.
Iron and ironing board.
Restaurant
There is no restaurant but you can enjoy a complimentary American buffet breakfast daily, with hot coffee, eggs, bacon, fresh muffins, do-it-yourself waffles, cereals, oatmeal, milk and fruits.
Hotel amenities
Entirely non-smoking property.
Front desk staffed 24/7.
Business center in the Lobby equipped with a desktop computer with Internet access, printing and faxing.
Free WiFi available throughout the public areas of the hotel.
Self-parking offsite.
Interactive map
Location
Midtown West, Manhattan.
548 West 48th Street, between 10th and 11th Avenues.
The Comfort Inn Midtown West is located near the Theater District, in the Hell's Kitchen neighborhood. Just steps away from Times Square and the Hudson River.
Our comment
This 3 star hotel has just opened so you can enjoy a brand new environment. The rooms are fully equipped, whether you are in New York for holidays or for business.
The hotel also offers a good location in Manhattan, steps from Times Square!